Minirol® MONO
Minirol® MONO roller shutters are perfectly suited for both renovations as new buildings. The built-up roller shutter is mounted on top of the window frame and is partial integrated within the cavity wall. The outside of the box is most commonly fixed against the outside wall which leaves the box to be practically invisible. 
Applications
New buildings - Renovation
Montage: Built-up, onto the window frame – box is accessible via the interior
Implementation
Box: All boxes are manufactured in PVC, optionally finished off with an aluminium front plate
Slats: Choice of insulated aluminium profiles or PVC profiles (smaller dimensions)
BP42RS-slat (ALU): covers up to 8m²
L44R-slat (PVC): covers up to 4,5m²
BP42RS is the standard profile for Minirol® Mono
- Because of the good roll-up diameter of this profile, only a small box is required. For a standard door or sliding window door height (2,3m under the box), the roller shutter rolls up in a box of only 180mm diameter.
- The BP42RS-slat is considered to be a very strong profile. It reaches up to a 3,5m width. So with the most common sliding window doors an extra guide sections in the middle is unnecessary.
- In most situations it's possible to use one and the same type of slat for a home. The large maximum width combined with the compact roll up, ensures to use a small box, even for substantial window surfaces.
Finish
Bottom slat, guide sections and curtain (slats) are available in any RAL colour
Operation
- Standard electrical (motorization Somfy)
- Manual
"A practical and versatile built-up system"
Technical
- All housing boxes are made of PVC and finished with an aluminium front plate if desired.
- Box: 185 x 220mm; 220 x 255mm
Extra
- A wider guide sections allows the integration of an insect screen between the window and the roller shutter.
- The adaption profile and the lateral fixation hooks ensure a perfect montage.
- Accessible via the front plate for service and review.
- Extra insulation inside the box is possible.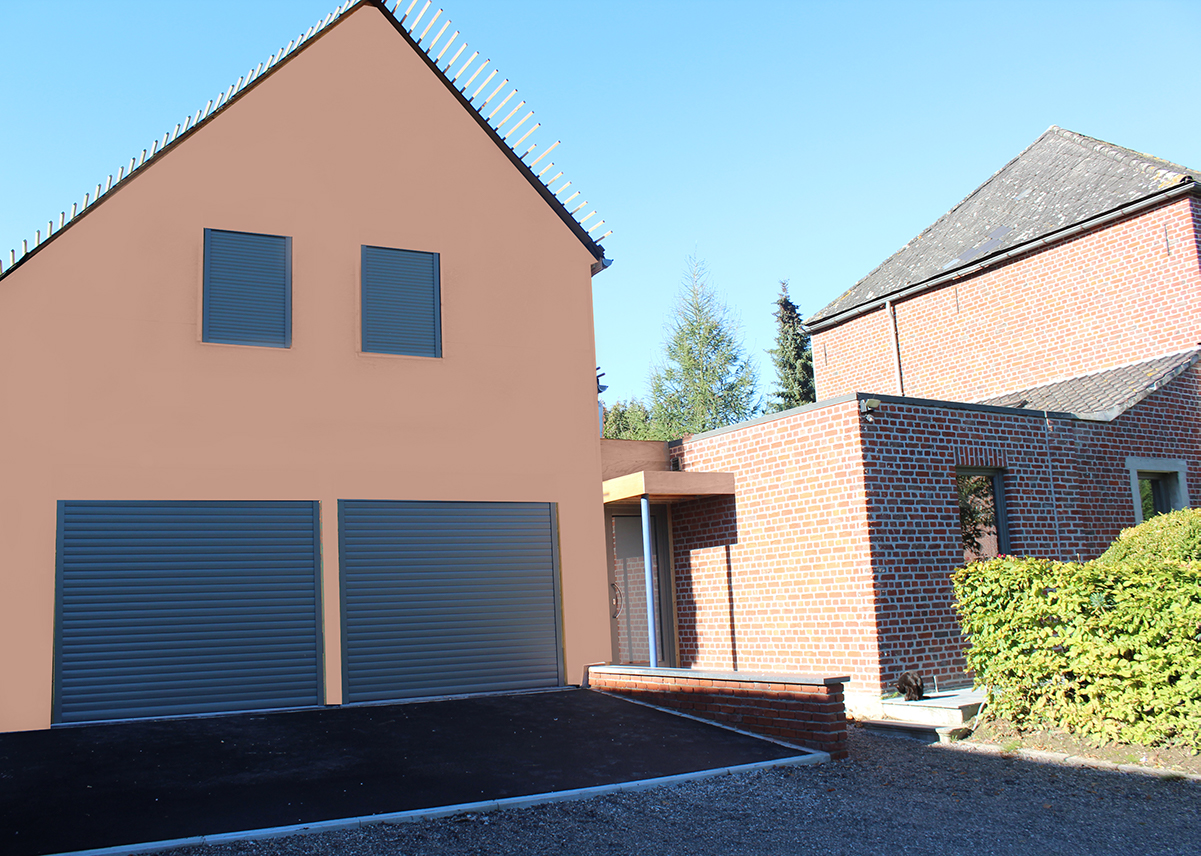 Before & After
Before: The box is placed onto the window frame
After:    When the facade is finished, the box is invisible